Sku:

PT3005

Vendor: Body of Elements
The Five Elements of Acupuncture Poster
The Five Elements of Acupuncture Poster. The five element theory is the cornerstone of acupuncture and meridian therapy. The poster clearly shows the relationship of the 5 elements (Fire, Earth, Metal, Water and Wood). What a great quick reference for use with acupuncture treatment. The colorful graphics help explain traditional Chinese medicine concepts to patients.

The 12 main meridians are grouped by their element showing their relationships to each other through the Sheng and Ko cycle. The command points "element points" are listed along with the Luo, Xi-Cleft, Source, Front-MU, Back-SHU, Entry and Exit points. Tonification, sedation, and horary points are marked for each meridian. Yin meridians "Zang organs" are in the inside of the circle, Yang meridians "Fu organs" are on the outside representing the inner and outer parts of the body.
Key Features:
Five elements in Controlling / Generating cycle.
The command "element" points listed on the cycle.
The Luo, Xi-Cleft, Source, Front-MU, Back-SHU, Entry and Exit points.
Five element correspondences and associations.
Body types by element.
Table of the Command points: Well, Spring, Stream, River and Sea.
Points grouped by Tai Yin, Shao Yin, Jue Yin, Yang Ming, Tai Yang and Shao Yang.
The eight influential points.
Lower He-(Sea) points pertaining to the six Fu Organs.
Window of the sky points.
Horary cycle.
This chart contains
6 valuable tables
: The characteristics of color, flavor, sense, emotion, tissue, climate... of the elements. The command points are listed in a table as well as in the large cycle illustration for easy reference and study. Additional body type associations are located at the top of the poster.
A unique
color horary cycle
. Every meridian has a time of day when it is most active. The circular diagram shows the time of day when each meridian is most active and the horary point for that meridian. This chart also shows the starting and ending point for each meridian and where on the body they start and end.
Size and Finish
: Available in 18" X 24" or 24" X 36". Printed on heavy weight satin finish photo paper for framing, or laminated for added protection. If there is something you want to add, please contact us. We can customize the poster for you.
Quality posters printed in the USA. Money back guarantee on all orders.
View full details
Add an additional description to your product option. Ex: Size guides, and other common questions.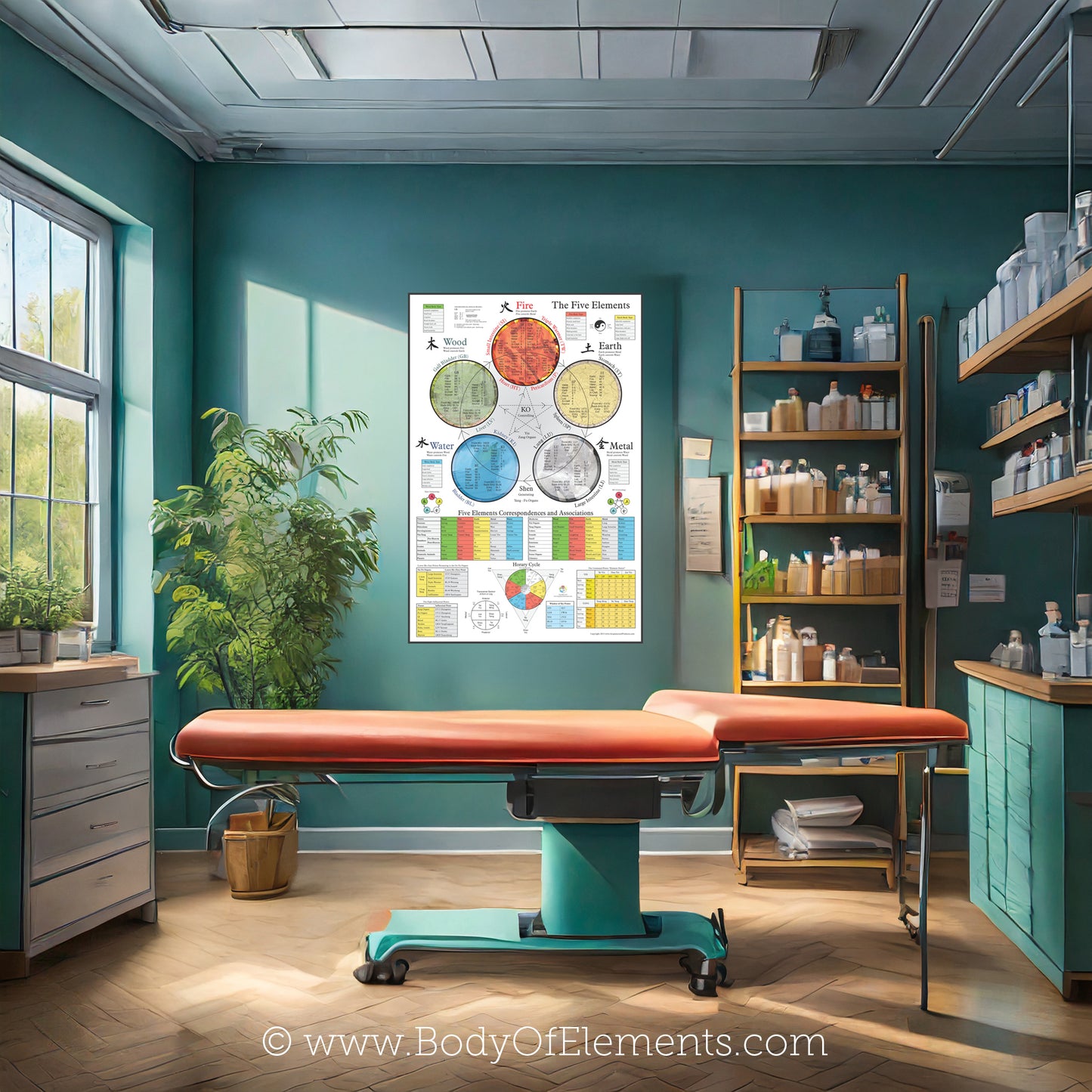 The Five Elements of Acupuncture Poster